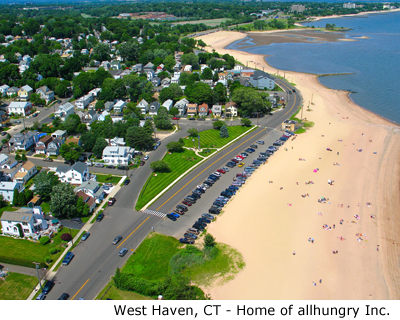 About allHungry.com
When you pick up a slice of New Haven's finest pizza or prepare to tuck into a plate of dim sum from your favorite Chinese restaurant, the chances are that you are enticed by the smell, the appearance and the anticipation of the great experience you are about to give your taste buds. What you probably don't think much about is how the olives were matured by the sun in ancient Italian groves, or how the shrimp in your dim sum spent their lives in the cold deep seas before being hauled out, shipped across the world and delivered to your plate. Nor are you likely to consider the careful artistry that goes into combining ingredients from around the world with a little of the magic that a passionate obsession with making great food brings. This is as it should be. You get a hankering, you order, you eat, and you enjoy.
At allHungry.com, we bring the zeal of a genuine love of food and understanding of the restaurant business to the software we create. We have acquired and run restaurants so that we could be sure we properly understood where the ingredients come from and what goes into turning them into tasty food. Just as importantly, we worked to understand how that food gets from kitchens to customers, and what we could do to improve that process. We have rolled up our sleeves and learned how to twirl the perfect pizza and how to season a steak just so. We and our engineers have cooked, cleaned and experienced the bustle of a busy kitchen. We have waited on customers, taken takeaway orders and collected payments. We know food and restaurants from the inside out, and we know from beginning to end what goes into getting that food to customers.
Based in West Haven, Connecticut, we've taken our love of good food, our knowledge of the industry and our expertise in designing software, and cooked up a system which brings restaurants and their customers closer together. Our software already runs the point of sales systems for both delivery-oriented restaurants and sit-down restaurants. With our newest venture, allHungry.com, we are crafting a service which uses the relationships and trust that we have already built with restaurants to make it a breeze for customers to get what they like with ease over the web. This is great for the restaurants, who get exposure to a wider customer base, and great for their customers, who can now order with our hassle-free online service.
We do all this because we had an idea. We had an idea how we could bring restaurants and customers closer. It's an idea that fills us with excitement, and we believe that excitement shows in the way we approach the creation of our products. It will not be our last idea; it is one more step along the way to revolutionizing the way restaurants interact with their customers. Be sure to keep an eye out because there is more to come.